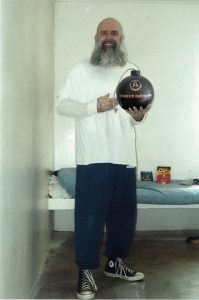 Sean Swain #A243205
OSP Youngstown
878 Coitsville-Hubbard Rd
Youngstown, OH 44505

Sean Swain is a hostage held by a lawless rogue-state calling itself "The State of Ohio." He has been held without legal conviction or sentence since 1991 for the self-defense killing of a court official's relative who broke into Sean's home and threatened his life. In fall of 2012, prisoners calling themselves the Army of the 12 Monkeys (A12M) got rowdy at Mansfield Correctional, and the prison authorities assumed "that anarchist" Sean Swain must have been behind it and threw him in supermax isolation. Sean denies any involvement or affiliation with the A12M and is in the process of suing the ODRC for targeting him based exclusively on his ideology and political speech.
Though innocent of any crime, and though he is held without legal conviction or sentence, Sean will only be liberated when the illegitimate power of the lawless rogue state holding him hostage is abolished once and for all.
The State started the war. Sean Swain intends to finish it.
BIRTHDAY
September 12
SUPPORT
Donate to help with Sean's legal struggles
WRITINGS
Some of Sean's zines
LINKS
Sean's website