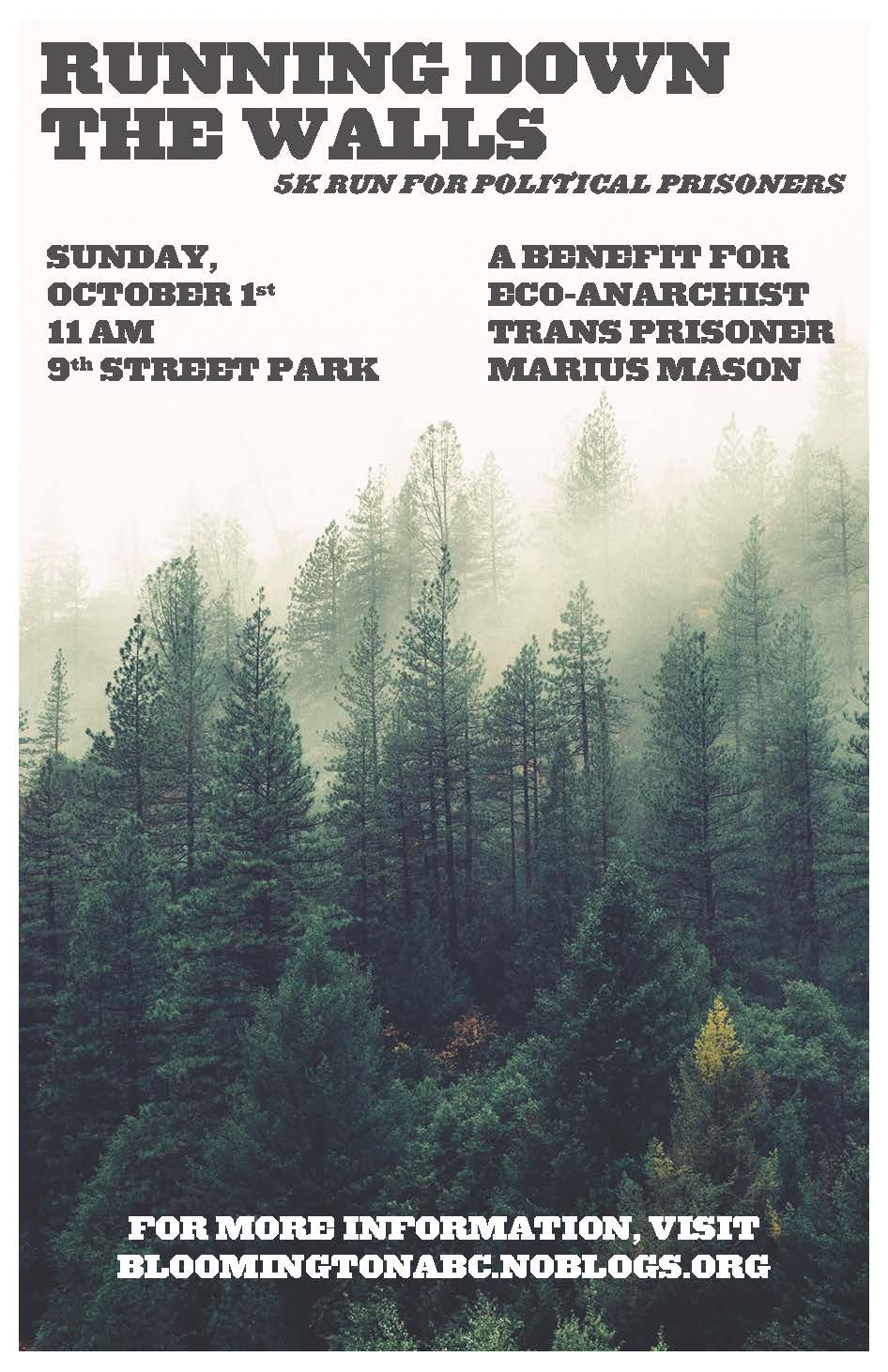 WHAT: Running Down the Walls – 5k run/walk/jog
WHEN: 11:00 AM – 3:00 PM, Sunday, October 1st
WHERE: Ninth Street Park, Bloomington Indiana
COST: Suggested registration $20 (food and drink afterwards)
[Facebook event page]
Running Down the Walls is an annual 5k run/walk/jog organized by Anarchist Black Cross chapters internationally to raise money for political prisoners/prisoners of war. This is the first year that Bloomington ABC will be participating.
Register as, or Sponsor, a Participant
* Promote – Print and distribute this poster to friends and around town.
* Run/walk/bike/roll in the 5k – If you want to participate, please contact us to register with your name (or an alias) and how much money you plan to pledge. We are asking for $20, but any amount of money will work. Please contact us at rundownthewallsbloomy [at] riseup [dot] net to register.
* Sponsor a participant. If you have a friend or family member participating in the 5k, you can sponsor them by giving them money to bring to the event, or coming yourself and donating there.
All money raised during Running Down the Walls will go directly to eco-anarchist trans prisoner and former Bloomington resident Marius Mason.
The 5k
We will be starting on at Ninth Street Park, aka Rev Ernest D. Butler Park. More info on the precise starting point coming soon.
About Marius Mason
Marius Mason is an anarchist, environmental activist, and animal rights activist serving nearly 22 years in federal prison for acts of property damage carried out in defense of the planet. In 2009, Marius plead guilty to arson charges at a Michigan State University lab researching genetically modified organisms for Monsanto, and admitted to 12 other acts of property damage. No one was physically harmed in these actions. At sentencing the judge applied a so-called "terrorism enhancement," adding almost two years to an already extreme sentence requested by the prosecution. This is the harshest punishment of anyone convicted of environmental sabotage to date. Shortly after his sentencing Marius was incarcerated in the high security Administration Unit at the Federal Medical Center Carswell in Fort Worth, Texas, only being released to general population in May 2017.
Marius came out to his friends, family and supporters as transgender in 2014. Previously known as "Marie Mason," he changed his name, uses he/him pronouns, and embarked on a course to get a medical diagnosis that would allow him to seek gender affirming surgery and hormone therapy. The Board of Prisons (BOP) has already diagnosed Marius as having gender dysphoria, and has made some clothing and commissary accommodations in accordance with their established policy. Subsequently, Carswell ran a plethora of medical diagnostic tests to screen him as being healthy enough to receive the care he has requested. Finally, on September 14, 2016, Marius received his first "T" hormone shot.
An accomplished artist, poet, and musician, Marius has continued to build his artistic skills in prison. Those expressions bring solace in a place that works hard to crush and erase it. Marius's beautiful paintings often speak to the struggles and issues that he continues to care about from inside the prison walls. Many pieces can be found on his website.